Gallbladder Surgery in Bangalore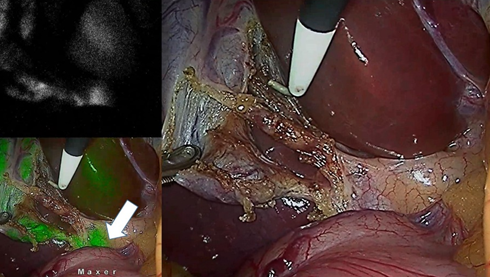 Fluorescence guidance improves safety during laparoscopic cholecystectomy. Fluorescence guidance helps identify common bile duct (CBD) and prevents accidental injury to the bile duct and increases the safety of laparoscopic gallbladder surgery. The white arrow in the image shows the common bile duct visualized clearly in the fluorescence image (left lower image) that is not seen in the regular laparoscopic image (right image). We routinely employ fluorescence guidance during cholecystectomy. It is important to note that this technology is offered with no increase in gallbladder surgery cost. Fluorescence guidance helps the surgeon see better, avoid injuries, and safety of gallstone surgery.
Gallbladder Surgeon in Bangalore
Dr. SrikanthGadiyaram is a renowned surgical gastroenterologist in Bangalore. He is an advanced laparoscopic and robotic surgeon with over two decades of experience and over 12,000 surgeries. He has done pioneering work in fluorescence guidance gallbladder surgery and has related publications in international peer-reviewed journals. He is the best gallbladder surgeon in Bangalore. Visit him today for the best gallbladder surgery in Bangalore.
Dr. Srikanth Gadiyaram is currently the Director and Chief surgical gastroenterologist at Sahasra Hospitals, Jayanagar, Bangalore
Click below to know your surgeon